lecture: A Whaleman's Annotated Copy of Moby-Dick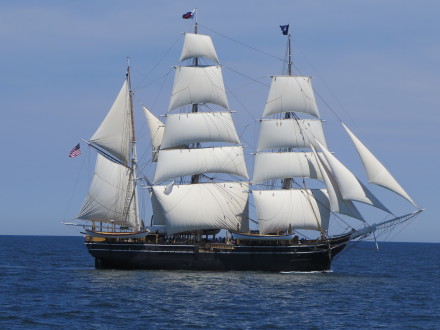 We recently welcomed Dennis C. Marnon of the Houghton Library at Harvard University, who presented his lecture, A Whaleman's Annotated Copy of Moby-Dick.
On his sixteenth birthday in May 1844, Frederick Lewis Hanks (1828-1887) signed on as a green hand aboard the whaler Champion out of New Bedford. That  same month, twenty-four-year-old Herman Melville, now a seasoned seaman, was  headed toward Boston on the U.S. frigate United States, ending  the South Seas adventures that would soon be the sources of his literary fame.  Hanks, a whaler for only 16 months but a ship chandler in Hawaii for many years after that, read Moby-Dick in 1874, while living in Manhattan, less than a mile from Melville's home.  He gave the novel—and its "cetological center" in particular—one of the most engaged, querulous, and informed readings this masterpiece has ever received, and he recorded his thoughts, source-hunting, disdain, bewilderment, and personal experiences in the margins of the text.
The annotations, ninety-three in all and usually quite lengthy, describe with authority whaling lore afloat and ashore, challenge Melville's grasp of the business of whaling at nearly every turn, catch allusions and jokes that have escaped all other editors and annotators to date, and offer local color observations, like how a Nantucket girl chooses a dancing partner. Owned by a private collector, this annotated Moby-Dick, never before described in detail, has no rival in Melville studies for its insights, information, humor, combativeness, and annoyed, incredulous exclamation points.
The photograph shows the Charles W. Morgan under full sail. This whaling ship, owned by Mystic Seaport: The Museum of America and the Sea, is very similar to the Acushnet, the whaling ship Herman Melville sailed on 1841-1842.   Photo by Vernon Smith, NOAA.