Writer-in-Residence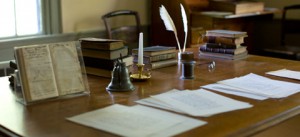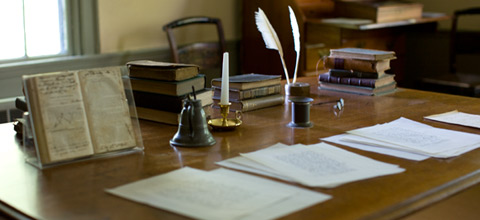 Jana Laiz is the Writer-In-Residence at Arrowhead. This position allows her the unique privilege to write from Herman Melville's table and look out the same window he did when he penned Moby Dick. This residency allows her uninterrupted writing time in a place that lends inspiration and history. She is currently working on a juvenile biography of Herman Melville, writing it at Arrowhead where she feels inspired and guided. Here she is also working on a sequel to her novel, The Twelfth Stone, as well as a novel chronicling immigrant stories.
Learn more about Jana.
Inspired by Melville: Writing about the Berkshires
Jana runs an education program, Inspired by Melville,  visiting schools to introduce Herman Melville and the Berkshires' landscape to school children. Jana then uses the idea of "place" in writing exercises.    For more information, contact Jana.
Recently, Jana visited two local elementary schools – here is her report: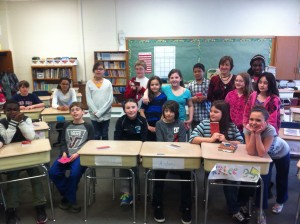 Prior to my visit to both schools, teachers pre-taught, introducing students to Herman Melville, Arrowhead as well as to my writing. When I arrived, they had an understanding of who I was, why I was there and my relationship to Herman Melville.

Over the course of the two visits to each class, there was a wonderful Q&A session with both classes, where they asked a variety of author-related questions, including questions about Melville; what it was like to sit at his desk and write where he wrote, etc.

I showed slides of Arrowhead including the view of Mt. Greylock from the window, the grounds, picture of Herman, and photos of me in the study. I introduced the students to several children's versions of Moby-Dick, talked about the novel, brought out a quill pen to show the students how Herman Melville wrote his books.

I showed my own works and read from them.  We talked about the elements of writing a story; setting, character, plot.

From there we talked about "place" as inspiration and did a writing exercise.  I had with me a variety of pictures~ beautiful images from nature and The Berkshires. Students got to choose one and then wrote a short narrative, story or description of these. Students were encouraged to share with the class, and were applauded for their willingness to participate, but were not given any critique.

Here are some comments from the students:

Aidan said, "Jana's workshop was amazing! I gave Jana 5 ***** because she taught me lots and inspired me big time!"

Josh said, "Jana's workshop was awesome. I gave Jana 5 ***** because she helped me find out my true nature."

Faith said, "Jana's workshop was inspiring to young writers. I gave Jana 5 ***** because she showed me that writing isn't as boring as I thought. She taught that it is very inspiring to kids!"

Connor said, "I gave Jana 5 ***** because she was inspiring for me to practice what I love and to keep trying and never give up!"

Ryan said, "Jana's workshop was FUN!!!!!!! I gave Jana 5 ***** because I love the stories that writes and she so kind."