Arrowhead is a place for inspiration – annual appeal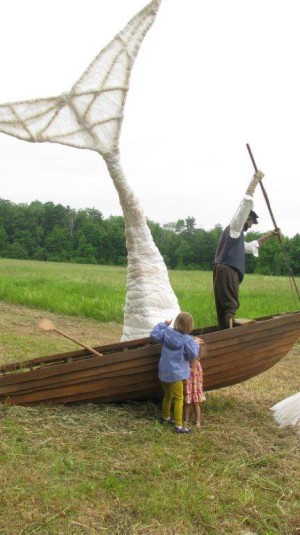 Nathaniel Hawthorne once wrote that his friend Herman Melville spent his days at Arrowhead "shaping out the gigantic conception of his white whale."
Arrowhead is a place for inspiration.
I have seen the magic of Arrowhead at work – visitors on Herman Melville's piazza quietly studying Mt. Greylock; fourth graders delighting in the simple joy of running beneath the huge white pine trees; our tour guides taking pride in sharing the Melville family with visitors from around the world.
I'm writing to ask for your help to keep the inspiration alive.
Jana Laiz, Arrowhead's writer-in-residence, feels the spirit of the place while working in Arrowhead's study on a new biography of Melville. Peter Bergman, the Historical Society's director of communication, gathered a group of poets here last winter. Inspired, they created amazing work.
Herman Melville's legacy brings in visitors from around the world. But Arrowhead holds even more historical riches. As the headquarters of the Berkshire County Historical Society, we are inspired every day by the deep rich history of western Massachusetts. The volunteer archivists and curators work all year, cataloging, preserving, and exhibiting and publishing our vast collections of furniture, textiles, photographs, and much more. We love to collect and share our community's shared history.
The list goes on. As a supporter of Berkshire Historical Society at Herman Melville's Arrowhead, you have found your own inspiration here, whether it is taking a tour, visiting the farm, attending a lecture, or simply taking in the beautiful views.
Please see our contact page or our donate page.  Your support makes it all possible – everything from paying utilities to underwriting the latest scarecrow sculpture installation by artist Michael Melle. Thank you!  The Berkshire Historical Society is a non-profit, 501(c)3 organization.
Sincerely,
Will Garrison, Executive Director