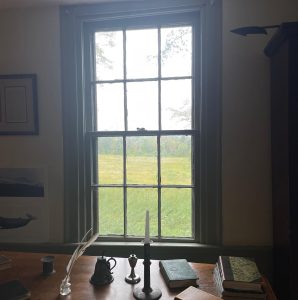 This six-month/six-genre writing series is for writers of all levels and areas of interest. The series is held one Saturday a month from 1-4 pm at Arrowhead, the historic home of Herman Melville. Listed dates are subject to change. In the event of snow/blizzard conditions, workshops will be postponed.
Fee for the workshop series is $275. Participation is limited to twelve writers; participants are highly encouraged to attend every workshop.
USE THE BOOK NOW BUTTON TO REGISTER
November 11 – Inspired by Melville with Jana Laiz
To start this six month series, Jana will tour participants through Arrowhead, introducing them to the life and works of Herman Melville. Every participant will then have the opportunity to write in each room, including Melville's study, with a unique set of prompts to inspire creativity in the place Melville called home from 1850-1863.
About the Facilitator
Writer-In-Residence Emeritus and Education Coordinator at Berkshire County Historical Society's Arrowhead, Jana Laiz is a writer with a purpose, changing the world one book at a time. Her books range in topics from climate disruption, refugee issues, equal rights to elder stories. Since being offered her residency in 2012, Jana has fallen in love with Melville and Arrowhead and continues to learn more every day. She is the award-winning author of Weeping Under This Same Moon, A Free Woman On God's Earth, The Twelfth Stone, Billy Budd in the Breadbox – The Story of Herman Melville & Eleanor, Thirty-Five Days to Baltimore and more. Jana leads workshops for children and adults all over the world. Visit her at www.janalaiz.com.
December 2 – It's the Most Frightening Time of the Year: Ghost Stories at Christmastime with Robert Oakes
"There'll be scary ghost stories and tales of the glories of Christmases long, long ago." This line from the popular holiday song may make you stop and wonder why anyone would include ghost storytelling on their list of Christmas festivities. Was that ever such a thing that it deserved its own line in a Christmas song? Turns out it was. In the nineteenth century, the telling of a spooky tale was a popular holiday pastime, the most enduring and endearing of which, A Christmas Carol by Charles Dickens, we still retell every year to this day. Indeed, ghost stories and supernatural strangeness have long been a part of our Christmas festivities, and it's high time we bring them back. In this workshop, we will explore these traditions and draw inspiration from spooky or supernatural selections with a Christmastime connection, as well as from the atmosphere of Arrowhead. Then, we'll develop, workshop, and share our own scary ghost stories.
About the Facilitator
Robert Oakes is a teacher, storyteller, songwriter, and author of The Ghostly Tales of the Berkshires (2023), Ghosts of Northwestern New Jersey (2022) and Ghosts of the Berkshires (2020). Since 2010, Robert has led the ghost tours at The Mount in Lenox, Massachusetts, and has represented the museum and its ghosts on Syfy's Ghost Hunters and Jeff Belanger's New England Legends series on PBS. He has also been featured by The Boston Globe, The Berkshire Eagle, and numerous other media outlets. In 2021, Robert also began leading ghost tours at Ventfort Hall in Lenox. He has written and produced media for AAA, Canyon Ranch, and a number of other organizations and performs as part of the folk music duo Oakes and Smith. Robert has also taught middle- and high-school English and currently serves as associate director of communications at Rectory School in Pomfret, Connecticut.
January 13 – Writing in the Liminal: A Journey through Grief and Loss with Beth Robbins
Grief and loss can throw us into a place of confusion and unknowing and uncertainty. Using prompts from poets and thinkers, including Keats and Emerson and Melville, we will explore the realm the romantic poets called the liminal. This realm is a transitional one, an imaginative one. And also a very real one. We will begin to listen to what is asking to be heard, to begin a dialogue with ourselves and the writers we'll be reading to help us. Join me for an afternoon of listening and conversation, and––of course!––writing.
About the Facilitator
Beth Robbins is a writer and a teacher. She published her first book, A Grief Sublime, in 2019. A work of creative nonfiction, this genre-bending work opens at the moment Beth is informed of her husband's sudden death in a car accident. The reader follows Beth as she navigates the liminal space in which she is thrust—in dialogue with poets she loved, and in a continued conversation with her husband. Beth lives in the Berkshires of western Massachusetts with her youngest son and her two cats. She has been a high school English and drama teacher at the Berkshire Waldorf High School for the last couple of decades and offers workshops and events around her book. She is currently working on her second book, A Box of Bones. Visit her at bethrobbinswriter.com.
February 10 – Cultivating Deep Attention with Scott Edward Anderson
In a world filled with constant distractions and information overload, finding the ability to deeply focus and engage with your writing is an invaluable skill. Join us for a transformative three-hour writing workshop, "Cultivating Deep Attention," where we'll explore the art of profound concentration and how it can enhance your writing process. Whether you're a seasoned writer looking to enhance your craft or a beginner seeking guidance on how to start, this workshop will equip you with the tools and mindset needed to harness the power of deep attention in your writing journey.
About the Facilitator
Scott Edward Anderson is an award-winning poet, memoirist, essayist, and translator. He is the author of Wine-Dark Sea: New & Selected Poems & Translations (2022), Azorean Suite/Suite Açoriana (2020), the Nautilus Award-winning Dwelling: an ecopoem (2018), and two books of nonfiction, including Falling Up: A Memoir of Second Chances (2019) and Walks in Nature's Empire (1995). He lives in West Stockbridge, Massachusetts. Learn more at scottedwardanderson.com
March 9 – Just Joking with Anna Lotto
In the workshop Just Joking, Anna will teach you tricks of comedy writing that you can use no matter how boring or depressed you are. Even if you prefer to write deadly serious prose, this workshop will give you the option of effectively injecting humor into your work. At the very least, you will be able to judge your favorite hilarious writer no longer as a comedic genius, but as a lucky hack who learned a few easy rules.
About the Facilitator
Anna Lotto has worked for over two decades in the world of television. She was nominated for an Emmy for her work as a game show writer and has written jokes for legends like Jane Lynch, Leslie Jones and Snoop Dogg as well as barely famous people like Joey Fatone and the second cousin of Sofia Vergara. Visit her here.
April 13 – The Wilderness Within with Elizabeth Doss
Playwright Elizabeth Doss will guide fellow writers across genres through a slow flow process exploring the blurriness between interiority and stimuli that comes alive in a simple space. This workshop will ask writers to access the volumes of content inside themselves from multiple vantages to find text, images, sensations and stories seeking refuge and release through words. Poems, plays, autofictions and all variations of narrative form can take shape in this format.
About the Facilitator
Elizabeth Doss is a writer, performer, director and playwright based in Austin, Texas. She is a Co-artistic director of the theatre collective Paper Chairs, which has produced developmental productions and world premieres of her original plays Murder Ballad Murder Mystery, Hillcountry Underbelly, Mast, Poor Herman and Catalina de Erauso. Paper chairs has also produced her translation/ adaptions of Federico Garcia Lorca's, The Audience and The Divine Narcissus by Sor Juana Inez de la Cruz. Her play Slumber Party, was featured as part of the UTNT Showcase in March 2017 and Theatre En Bloc produced her play Severe Weather Warning at the Long Center in May 2019. Doss holds a BA in Spanish and an MFA in Playwriting, both from the University of Texas at Austin. She takes delight in having played herself and Herman Melville (her great-great-great grandfather) in Mark Blumberg's whimsical auto-fiction memoir film, The Act of Reading. Her personal essay, "What Poor Herman Means to Me" was published in Leviathan in the fall of 2022. She's looking forward to the upcoming production of her play, Poor Herman at Arrowhead in July 2024.