Herman Melville's work belongs to the world, and it was the Berkshires that inspired him. Explore the landscapes that inspired Melville by following the Melville Trail.
A partnership of the Berkshire County Historical Society at Herman Melville's Arrowhead, the City of Pittsfield, Berkshire Athenaeum, and the Trustees of Reservations, the Melville Trail deepens our understanding of Herman Melville's connection to and love of many places in Berkshire County. Four of his most beloved places now have permanent interpretive panels: Arrowhead, Pontoosuc Lake, Berkshire Athenaeum, and Monument Mountain.
Included on the trail are eight more places that Melville visited: Park Square, Hancock Shaker Village, Crane Museum of Paper Making, Balance Rock, Lenox Court House, Tanglewood/Hawthorne Cottage, October Mountain and, of course, Mount Greylock.
The Trail is a collaborative project was made possible by a grant from Housatonic Heritage – visit their website to learn even more about this landscape and its history.
To explore an interactive map of the Melville Trail, scroll through below, or open in a new tab by clicking here.
---
Stops along the Melville Trail
"…It has been a most glowing & Byzantine day – the heavens reflected tints of the October apples in the orchard…I tell you that sunrises and sunsets grow side by side in these woods…"
From 1850 to 1863 Melville and his family of eleven, including his mother and four sisters, called Arrowhead home.
It was here he put pen to paper writing some of the most influential American fiction to date. Surrounded by nature, friends Nathaniel Hawthorne and Oliver Wendell Holmes, and inspired by majestic views, Melville settled into domestic and professional peace if only for a time.
Arrowhead
780 Holmes Road, Pittsfield, MA
413.443.1793
mobydick.org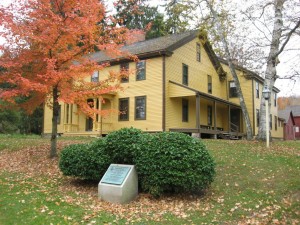 ---
"…wagon – party – The Author, his wife & sisters Helen & Augusta drove North towards Hancock Mountain, visited the house of Jessee Potter… which is situated on the very summit…lunched at the old fashioned town of Hancock, & returned home by way of Lebanon & Hancock Shakers…28 miles."

Augusta Melville
In 1790, a community of Shakers settled just west of Pittsfield. Much like thousands of tourists today, Melville frequently visited the Shakers during his time at Arrowhead. Fascinated by their theology, he invited Hawthorne along on several trips. His trips and interactions with the Shakers gave birth to Gabriel of the Jeroboam, a character in Moby-Dick.
Hancock Shaker Village
P.O. Box 927
Pittsfield, MA
www.hancockshakervillage.org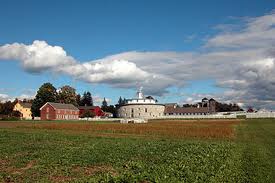 ---
In 1946, Dr. Henry A. Murray gave the Berkshire Athenaeum his private collection of Melville's manuscript correspondence, first editions, family portraits, pictures, and personal items. The Melville Memorial Room opened in 1953, financed by Dr. Murray.
The room remains today, having survived several library expansions. The room is open to the public any time the library is open. Special materials housed in the vault may be viewed by appointment only.
Berkshire Athenaeum
1 Wendell Ave.
Pittsfield, MA 01201
413.499.9496
www.pittsfieldlibrary.org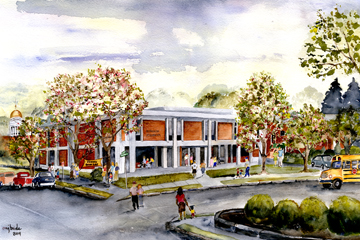 ---
Since the turn of the 19th century, Crane and Company has manufactured paper in Berkshire County, most famously for the U.S. treasury. Melville frequently purchased paper in both Lee and Carson's Red Mill in Dalton, which was later purchased by Crane and Company. As one of the major industries in the county, Melville was touched by the lives of the mill girls, who he wrote about in The Paradise of Bachelors and the Tartarus of Maids.
In the winter of 1851, more than a year into Moby-Dick, Melville noted that he had purchased "a sleigh-load of paper" from the Crane paper mill.
The Crane Museum of Papermaking gives visitors a unique view of the role papermaking played in Berkshire County. To schedule a tour for groups as large as 50, please call (413) 684-7780.
The Crane Museum of Papermaking
Housatonic Street
Dalton, MA 01226
https://cranemuseum.org/
---
Tanglewood and Hawthorne Cottage
"The Little Red House"
"…sat down in Love Grove to read my papers. While thus engaged, a cavalier on horseback came along the road, and saluted me in Spanish; to which I replied by touching my hat and returned to the newspaper. But the cavalier renewing his salutations, I regarded him more attentively and saw that it was Herman Melville!"

Nathaniel Hawthorne on Herman Melville's 32nd birthday surprise visit.
It is safe to say Melville did not picnic while enjoying the Boston Symphony Orchestra at Tanglewood in the 19th century like we do today. The Hawthorne Cottage is actually a replica of the original "Little Red House" that Hawthorne and his family moved into in 1850. During their 18 months in the cottage, Hawthorne completed The Wonder Book, The House of The Seven Gables and began the Tanglewood Tales. He also welcomed his friend Herman Melville several times to visit.
The Cottage is a private residence and not open for public viewing; however, during Tanglewood's summer season, visitors can see the replica from the street.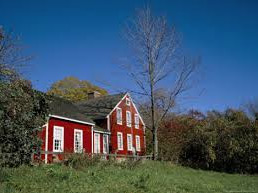 ---
"…the great flood-gates of the wonder-world swung open, and in the wild conceits that swayed me to my purpose, two and two there floated into my inmost soul, endless processions of the whale, and, in mid most of them all, one grand hooded phantom, like a snow hill in the air."
"There she blows!-there she blows! A hump like a snow-hill! It is Moby Dick!"
Massachusetts' highest peak at 3,941 feet, Mt. Greylock served two purposes for Melville. He chose the Arrowhead home in part because of its views of the mountain, and also hiked and camped the area surrounding the mountain throughout his time here in the county. The Arrowhead view is also said to have reminded Melville as the cresting back of a whale – giving Moby-Dick a physical presence in Melville's life.
Mt. Greylock is part of the Massachusetts state park system. Visitors can drive up the mountain, though the road is closed during the winter months.
The visitor center is located at 30 Rockwell Road, Lanesborough.
Bascom Lodge, located at the summit of Greylock is open from May to October. Call 413-743-1591 for information about lodging and camping.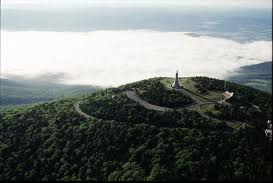 ---
"…one day it chanced that when they were out on a pic-nic excursion, the two were compelled by a thunder-shower to take shelter in a narrow recess of the rocks of Monument Mountain…They learned so much of each other's character, and found that they held so much of thought, feeling and opinion in common, that the most intimate friendship for the future was inevitable."

Joseph Smith, poet 1879 of the meeting of Hawthorne & Melville.
Rising 1,642 feet, Monument Mountain is an enjoyable and vigorous hike. For almost two centuries, Monument Mountain has been a source of inspiration to poets, novelists, and painters. During William Cullen Bryant's sojourn in Great Barrington (1815–1825), he penned "Monument Mountain," a lyrical poem that tells the story of a Mohican maiden whose forbidden love for her cousin led her to leap to her death from the mountain's cliffs. In the poem, Mohicans created a rock cairn on the spot where she lay buried, giving the mountain its name – Mountain of the Monument.
On August 5, 1850, Nathaniel Hawthorne and Herman Melville enjoyed a well-chronicled picnic hike up Monument Mountain. A thunderstorm forced them to seek refuge in a cave where a lengthy and vigorous discussion ensued, inspiring powerful ideas for Melville's new book, Moby-Dick, which he dedicated to Hawthorne.
This now robust forest was at one time clear cut to supply fuel to several iron furnaces in the valley. Coal bush workers lived on the mountain for months at a time, tending their hearths. Flattened circular mounds scattered all over the mountain are a reminder of their labors. Often a birch tree grows near them to signal slow restoration of the soils.
Monument Mountain is on Route 7 in Great Barrington, MA.
A property of The Trustees of Reservations
413.298.3239
https://thetrustees.org/place/monument-mountain/

---
Park Square
The site of the country's first agricultural fair in 1810, Park Square has bound Pittsfield together since the early 18th century. As such, Melville's life was forever touched by the square. St. Stephen's, on the northeast side of the square, was where his sister was married in 1853, and the First Church of Christ Congregational, built in 1853, was where Melville himself attended services. The old "Pittsfield Elm," which stood until 1861, made an appearance in Melville's novel White-Jacket.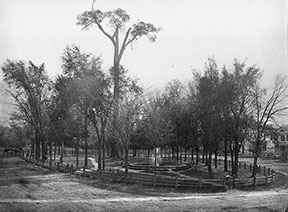 ---