The Berkshire County Historical Society owns approximately 6,000 objects related to the history of Berkshire County. The collection consists of fine and decorative arts, household and industrial artifacts, textiles, costumes and accessories (the largest such collection in the Berkshires), furniture, ceramics, glass, paintings and other framed works of art, and other historic artifacts.
A selection of these objects are on view in the main house, including objects belonging to the Melville family. We host an annual exhibit, focused each year on a different aspect of Berkshire history. The Society also maintains a small exhibit at the Pittsfield Post Office, 212 Fenn Street.
For a small sampling of our collections, click here.
Our collection would not be what it is without the generosity of our donors. Objects with county provenance often find their way back to the Berkshire County Historical Society, where we seek to preserve the rich material culture of the Berkshires. A list of recent donors can be found here. If you have something that you're interested in donating, please contact us.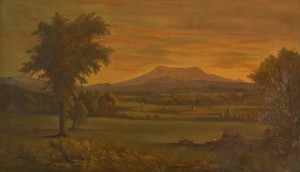 If you're interested in the life and work of Herman Melville, be sure to visit the Melville Memorial Room at the Berkshire Athenaeum, Pittsfield's Public Library. You'll see an amazing exhibit! For information, visit their website.