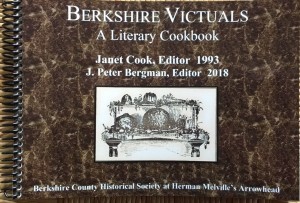 Frances Melville Thomas' Soft Ginger Cookies! Maureen Stapleton's Eggplant Caponata! Just two of the hundreds of recipes now available in Berkshire Victuals.
First published in 1993, Berkshire Victuals (Janet Cook, ed.) has been revised with additional recipes and notes. J. Peter Bergman, the editor of the 2018 version, also created a full index of the recipes. Contributors include Marge Champion, Roselle Chartock, Carole Owens, Paul Metcalf and Pittsfield Mayor Anne Everest Wojtkowski. Quotes from the writings of Herman Melville, William Cullen Bryant, Edith Wharton, and Nathaniel Hawthorne pepper the pages. Additional recipes from the "Busy Bees" of Pittsfield, 1928. The Busy Bees were women of the board of the House of Mercy hospital.
Spiral bound, making it easy to use. 220 pages.
Berkshire Victuals is available at the shop at Arrowhead, or online here
Edited by J. Peter Bergman, Berkshire County Historical Society at Herman Melville's Arrowhead, 2018.