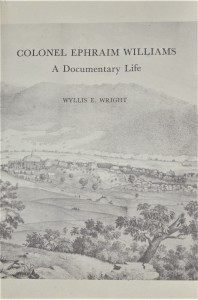 Ephraim Williams had a life filled with adventure. Dying in battle in 1755 during the French and Indian Wars, Williams' name has lived on-Williamstown is the home of Williams College, started with his bequest. Author Wyllis E. Wright has done a masterful job of pulling together original documents to illustrate life on the 18th century frontier.
Colonel Ephraim Williams: A Documentary Life is available at the shop at Arrowhead or online here.
By Wyllis E. Wright. Published by The Berkshire County Historical Society at Herman Melville's Arrowhead, 1970.