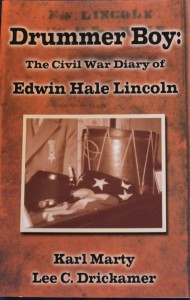 At the age of fourteen, Edward Hale Lincoln enlisted as a drummer boy in the 5th Massachusetts Volunteer Infantry. He served nine months in North Carolina, recording the daily life of a fighting arm. After his Civil War service, Lincoln worked as a photgrapher in Berkshire County; many of his glass plate negatives are held by the Berkshire County Historical Society. Lincoln's diary, edited by Karl Marty and Lee Drickamer, is an important record of the Civil War.
Drummer Boy is available at the shop at Arrowhead, or online here.
Edited by Karl Marty and Lee Drickamer. Published by Ivy House Publishing Group, 2005.