1930s Civilian Conservation Corps Camps: The Genesis of Our State Parks System
September 14, 2022 @ 5:30 pm

-

6:30 pm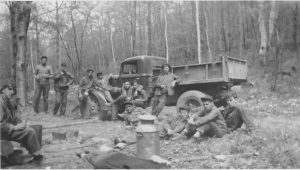 Local historian and author Bernard A. Drew will present a history of Franklin D. Roosevelt's Forest Army of the 1930s, a national program to provide employment, security, and training to young men during the height of the Great Depression. Drew will concentrate on Civilian Conservation Corps facilities in Great Barrington's Beartown State Forest in and at York Lake in Sandisfield State Forest. Drew will present a visual history of recruit work and leisure utilizing 100 projected images most never shown in the Berkshires or reproduced in books.
Bernard Drew is a newspaper editor and columnist and the author of local Berkshire histories including books about Great Barrington, Monument Mountain, Lake Buel, Beartown, the Knox Trail and, nearing completion, 18th and 19th century water powered industry on the Housatonic River. He is a past president of the Berkshire County Historical Society.
This free program is sponsored by Berkshire Bank and Greylock Federal Credit Union.