Fall Fundraising Dinner
Sep 20 Wed @ 5:00 pm

-

7:00 pm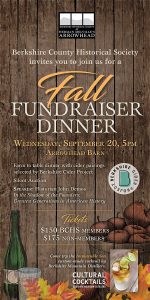 Enjoy a special farm to table dinner in Arrowhead's historic barn. Brennan's Catering has created a menu highlighting the bounty of fall including pork, brisket and butternut squash ravioli. Dinner will be served with cider pairings selected by Berkshire Cider Project. .
Our special guest is renown historian John Demos, who will present the lecture In the Shadow of the Founders: Greatest Generations in American History (see more info below). The event also includes a silent auction that includes food, recreation, art and history packages (see list below)..
Use the BOOK NOW button to purchase tickets.
$150 for BCHS members; $175 for non-members
ALL PROCEEDS BENEFIT BERKSHIRE COUNTY HISTORICAL SOCIETY'S EDUCATION AND PRESERVATION PROGRAMS.

The Evening's Menu
Appetizers
Asparagus, Gruyere and Caramelized Onion Tarts
Spanikopita
Scallops Wrapped in Bacon with Maple Glaze
Buffet Dinner
Pear, Walnut and Gorgonzola Salad with Balsamic Vinaigrette or House Salad
Roast Pork Tenderloin with Apples, Leeks and Cider Brandy Sauce
Beef Brisket with Berkshire Brewing Coffee House Reduction
Roasted Red Potatoes with Garlic and Rosemary
Autumn Vegetable Medley
Butternut Ravioli with Brown Butter Sage Sauce with Pistachios
Dessert
Warm Apple Crisp with Vanilla Ice Cream
About the Ciders
Golden Russet Champagne
A fine champagne-method cider featuring one of our favorite apples. Delicate acid and a nutty profile pairs well with cheese and lighter faire.
Windy Hill
Sparkling barrel-aged cider selected and pressed right at the orchard in Great Barrington. Bright acid pairs well with pasta and fish with subtle oak finish.
Bittersweet
Dry and hazy, inspired by our favorite draught ciders and cozy pubs. English bittersweet apples add bold tannins and warm cider notes, pairs well with pork and slow-cooked meats.
About John Demos
John Demos, Samuel Knight Professor of American History Emeritus at Yale University, is an award-winning author and Tyringham resident. He is the author of numerous books, including The Unredeemed Captive: A Family Story from Early America, and The Heathen School: A Story of Hope and Betrayal in the Age of the Early Republic, a 2014 National Book Award finalist, and most recently Puritan Girl Mohawk Girl. His book Entertaining Satan: Witchcraft and the Culture of Early New England (1982) won the Bancroft Prize.
At several strategic points in the American past, events have cast a particular generational cohort in a special, outsize role. The first colonial "settlers" (born 1580-1600); the nation's "founding fathers" (born 1740-1760); the generation that fought the Civil War (born 1810-1840); and, most recently, the so-called "greatest generation," the one that overcame the Great Depression and won World War Two (born 1890-1920): those are the leading examples. Their lives and deeds have given a distinctive shape to our history, a recurrent and transformative charge of renewal. In each case, the immediately following generations have lived in their shadow–beholden, as it were, to their "greatness." The regularity of their spacing is notable; with one omission they appear at 70-80 year intervals, which might suggest that we're about due for the next one. Born 1981-1996, hello, millennials. What have you got for us?
Silent Auction Items

FORE! Experience the beauty of fall golf in the Berkshires with a round of golf and cart for two at Miraval Resort and Country Club of Pittsfield. Sharpen up your game pre-round with tees and practice balls.
The Spirit of the Berkshires The Berkshires is fast becoming a hub for creative wine and spirit makers. Enjoy the bounty with a gift basket from Balderdash Cellar, a tasting for six at Berkshire Mountain Distillery Tasting plus two Complimentary Bottles of Spirits, and a gift basket from one of Berkshire County's most respected food and spirits stores, Spirited Wine and Liquor.
Let's Get Cookin' Restock your kitchen drawers and cupboards with Cutting Boards, a vegetable peeler, an ice cream scoop and towels and oven mitts from Berkshire County's inimitable Blue Q.
Coffee's on Us! Gift certificates from some of Berkshire County's favorite coffee purveyors: Currency Coffee, Panera Bread, Dottie's Coffee Lounge, and Dory and Ginger.
A Whale of a Time Visit the New Bedford Whaling Museum (and bring a friend!), followed by a meal at The Black Whale Kitchen + Restaurant courtesy of a $50 gift certificate.
Hopping along with Brewers of the Berkshires Explore the Berkshires craft beer scene with a $25 gift certificate from Downtown Pittsfield's Hot Plate Brewing and a $50 gift certificate from Antimony Brewing in Lenox. Needing to chill after that? We're throwing in four tickets to the Beacon Cinema.
A Hauntingly Fun Evening Do you love ghost stories? Have a frighteningly good time learning about some of the Berkshires famous hauntings with a haunted tour of The Mount, and Ventfort Hall. Can't get enough of spooky stories? This item also includes the book Ghosts of the Berkshires, by Robert Oakes.
It's Doggone Pawfect We know you love them. It's time to treat your fur baby with a $50 gift certificate to Benson's, a doggie toy basket with accessories, and a $75 gift certificate to Animal Inn.