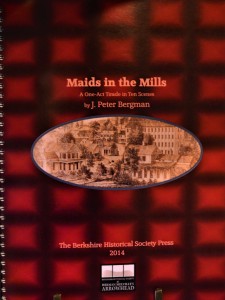 J. Peter Bergman's play, "Maids in the Mills," was written and performed in Pittsfield in 2004 during the Sheeptacular Pittsfield! public art display. Telling the stories of immigrant women from Ireland and Poland who came to Pittsfield to work in the woolen mills it also explores their difficult relationships with women overseers from Vermont and the eventual establishment of the first major labor union. The play was revived at Arrowhead in 2014 and subsequently toured through the county. The book is illustrated with photos from two productions and is available as a working script.
Maids in the Mills is available at the Arrowhead shop, or online here.
By J. Peter Bergman. Published by The Berkshire County Historical Society at Herman Melville's Arrowhead, 2014.