Now that the Ground is Covered with Snow…
"I have a sort of sea-feeling here in the country, now that the ground is covered with snow. I look out of my window in the morning when I rise as I would out of a port-hole of a ship in the Atlantic. My room seems a ship's cabin; & at nights when I wake up & hear the wind shrieking, I almost fancy there is too much sail on the house, & I had better go on the roof & rig in the chimney. " Herman Melville, in a letter to Evert Duyckinck, December 13, 1850.
As the snow falls and winter descends upon the Berkshires, we begin to settle in for the cold months ahead. Our lives shift with the seasons, and like all living things in northern climes, one of our focuses shifts to keeping warm. Over the centuries, people have come up with different means of going about this: heavier clothing, heating elements in the home, outdoor exercise and activities. You have probably seen a sampling of our collection on display if you've taken a tour of Arrowhead. However, our collection as the Berkshire County Historical Society extends far beyond that, consisting of an extensive range of objects representing all aspects of Berkshire history and material culture, which also includes one of the largest costume collections in Western Massachusetts. Here, we look at a small sampling of objects which shed light on how our forebears navigated this festive but often harsh season.
Mittens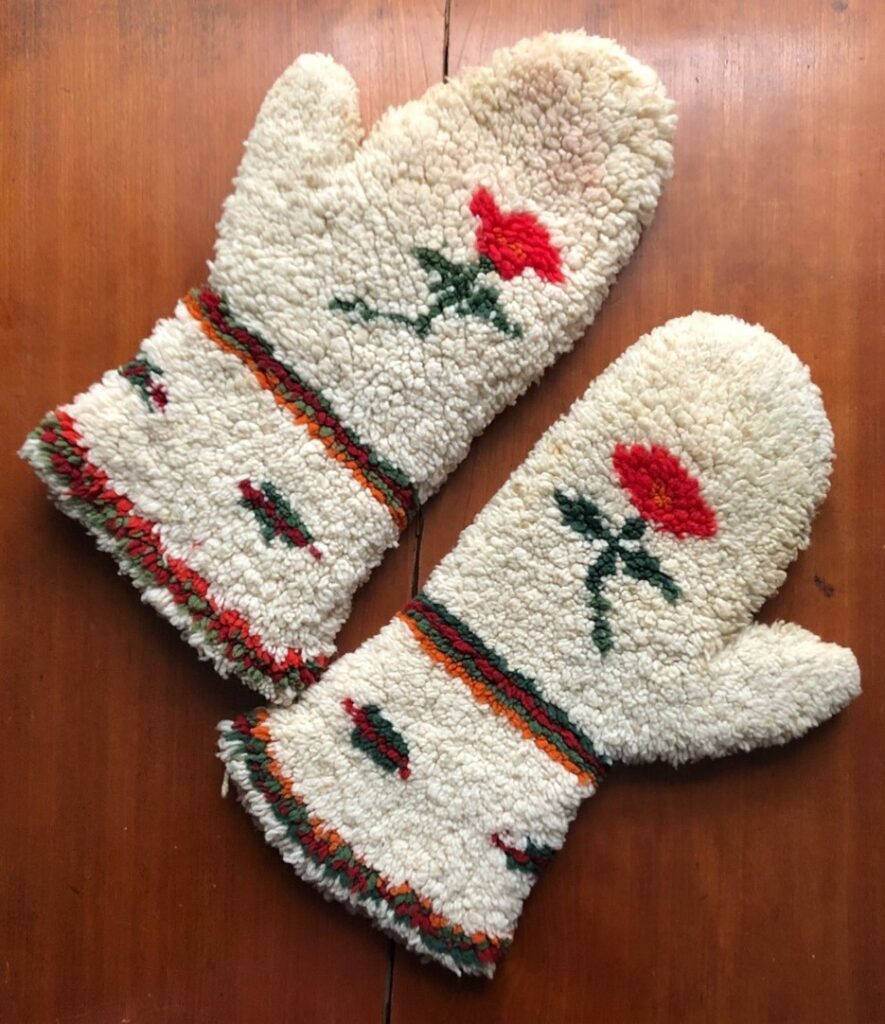 This wonderfully warm pair of mittens was knitted by Sally Ann Stillwell, grandmother of the donor, in 1861. The hooked yarn, similar to the process used in rug hooking, traps heat more effectively and makes for toasty warm hands. This particularly style had been around for a while at the point of this pair's creation: an 1803 diary entry from a Ruth Henshaw mentions "a pair of shag mittens, that is all over fringed, which is the new mode of knitting mittens."
Collection of the Berkshire County Historical Society, acc# 1970.262. Gift of Mrs. John Galt.
Women's Coat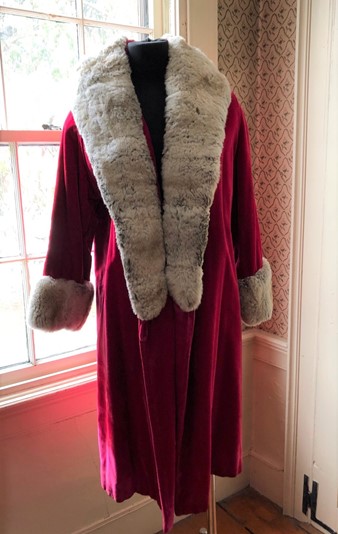 This red velvet wrap coat, trimmed with a gray chinchilla collar and cuffs, was an iconic Jazz Age winter staple. Worn circa 1928, the owner was a Great Barrington resident, and wore it along with a matching belt (no longer extant) set low on the waist, over a white dress. Despite the holiday look to the coat, furs were sometimes worn on both the cooler autumn and spring days, as they were a valued part of a wardrobe.
Collection of the Berkshire County Historical Society, acc# 1988.110. Gift of Helen Pease.
Long Underwear Set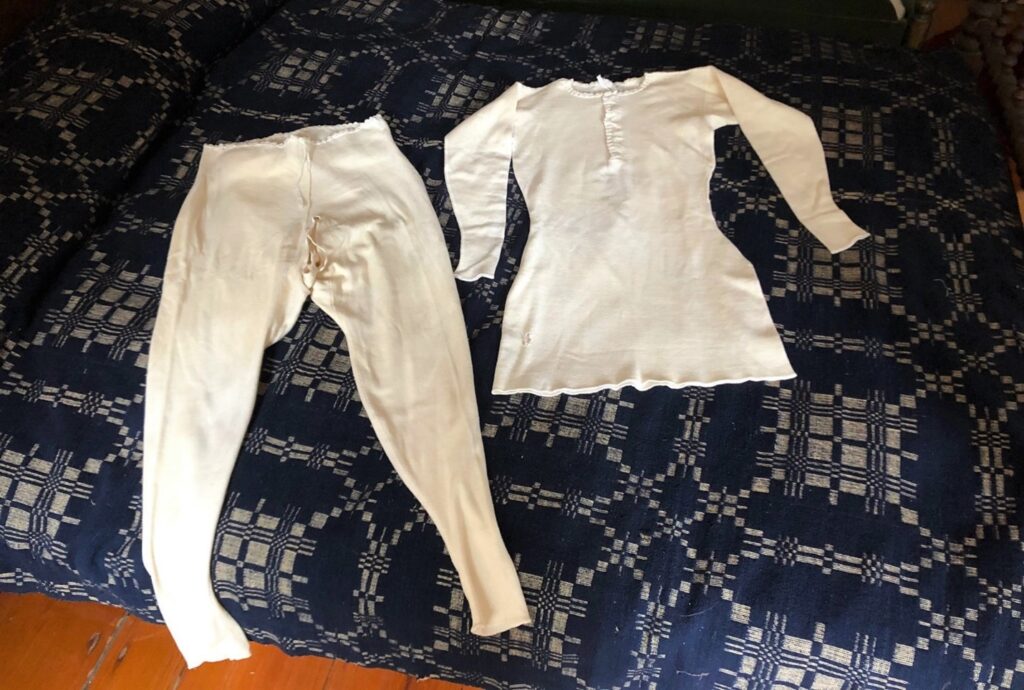 Layers have always been the key to dressing in winter. This two-piece long underwear set was purchased in Great Barrington circa 1900, and worn by Jess and Daisy French, aunts of the donor. Made of cream-colored cotton knit with mother-of-pearl buttons, it fit close to the body, with a drawstring waist and neckline for added adjustability. Thought it consists of two pieces, unlike one-piece union suits, the long waist of the top extends over the hips, eliminating gaps for unexpected drafts. However, the bottoms feature an open crotch and back covered by an overlap, mimicking the flap on a union suit. This could have been worn under an everyday dress on cold days, or in preparation for outdoor pursuits.
Collection of the Berkshire County Historical Society, acc# 1991.067. Gift of Mr. and Mrs. Harold French.
Sled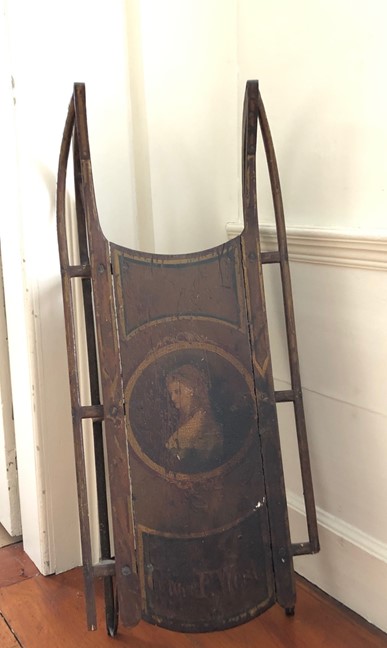 Though modern sleds have their origins in practical transportation, children have been enjoying the sport since at least the 17th century. The style of wooden sled with metal runner which you see here gained popularity in the 1860s, thanks to the Paris Manufacturing Company of Maine, which started out with its founder, Henry Franklin Morton, constructing them himself, after which his wife would paint them in her kitchen. This sled, however, was painted by a mother for her daughter, most likely slightly after that time. Mary Elizabeth West, the great-grandmother of the donor, inscribed the sled with her daughter's name, Grace F. West, and painted her likeness set within a circle in the center of the sled. The West family originated in Bancroft, part of Middlefield, and later relocated to Pittsfield, living at the corner of West Housatonic and South Streets.
Collection of the Berkshire County Historical Society, acc# 1983.001. Gift of M. Elizabeth Nichols.
Ice Skates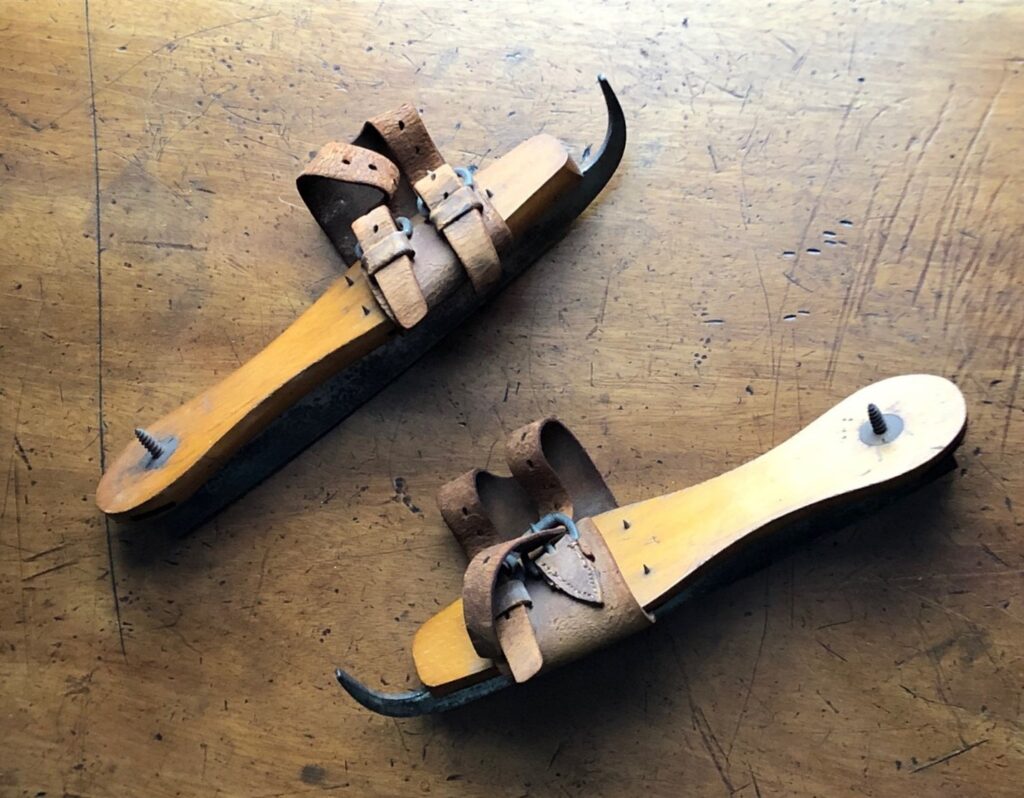 Like sleds, ice skates had practical origins, as they allowed for more effective travel over expanses of ice. The concept has remained the same from the start – a blade attached to the foot in some way (although the first skates, made of bone, provided much less stability and precision than the metal blades we know today). It's been a popular winter past time for centuries, and these skates represent a style from around the turn of the 20th century. A screw attached to the heel of the boot, and several screws under the forefoot provided addition stability. A leather strap buckled over the top of the boot. This pair is marked "Moulson Bothers / Union Works / Sheffield." The name of the town is simply coincidental to Berkshire County: Moulson Brothers was a business from Sheffield, England. Unlike contemporary ice skates made by companies that specialize with winter sports, they were actually a tool and cutlery company. However, there is a strong Berkshire connection: the skates were worn circa 1910 by the family of Jean and Russell Bousquet on a pond on Tamarack Pond at what would later become Bousquet Ski Area.
Collection of the Berkshire County Historical Society, acc# 2001.006. Gift of Jean and Russell Bousquet.
Rope Tow Gripper
Pittsfield's own Bousquet Ski Area plays a role in the history of skiing in the invention of a certain type of rope tow. A canvas belt attached to a "gripper," invented by Clarence "Clare" Bousquet, helped pull people up the mountain at his ski area in Pittsfield, MA. Patent US2230024A was filed June 3, 1939 and approved Jan. 28, 1940. Clarence Bousquet operated a ski area on his property beginning in the 1930s. He installed several tow ropes which skiers held onto and were pulled up the mountain. As more trails opened, Bousquet became a premier ski resort. The Tow Rope Gripper that Bousquet invented relieved strain on hands, wrists, and arms and was immensely popular. Over 500,000 were sold and several people designed grippers based off his patent.
Collection of the Berkshire County Historical Society, acc# 2016.026. Gift of Henry Fay.