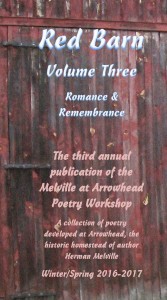 Red Barn is an annual chapbook showcasing the new poetry produced by the members of the Arrowhead Poetry Workshop, an almost annual event. It is usually introduced at a public reading given by members of the workshop. The book is available in the gift shop afterward; the workshop honors Herman Melville's devotion to poetry.
The Red Barn chapbooks are available at the Arrowhead shop.
Published by The Berkshire County Historical Society at Herman Melville's Arrowhead.