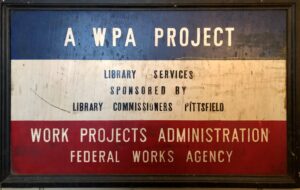 The WPA in the Berkshires
July 2–October 31
Open Thursdays through Mondays 10 am–4 pm
The history of the Works Progress Administration (1935-1943), the largest of President Roosevelt's New Deal programs, and its associated Berkshire projects are examined in this exhibition. The WPA in the Berkshires examines the impact these programs had on Berkshire residents and the ways in which they shaped the county we know today.
The exhibit will look primarily at the Federal One projects (the Federal Art, Music, Theater, and Writer's Projects, and the Historical Records Survey), along with adjacent New Deal programs such as the Civilian Conservation Corps and the Historic American Building Survey. The history of these programs and the specific sites and individuals associated with them will be illustrated by photographs, documents, and objects from the collection of the Berkshire County Historical Society.
This free exhibition is sponsored by Berkshire Bank.