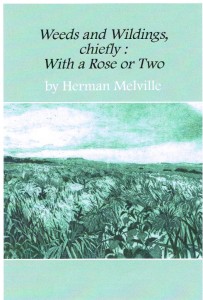 Weeds and Wildings, chiefly: With a Rose or Two is a new comprehensive collection of Herman Melville's last poetry and short fiction – principally written during the final years of his life. It is Melville at his most romantic, sentimental and autobiographic; this book let him return in memory to his years at Arrowhead. It was a gift to his wife Elizabeth Shaw Melville.
Includes a glossary, introduction, and biographical notes.
Weeds and Wildings, Chiefly is available at the shop at Arrowhead or online here
Edited by J. Peter Bergman, Berkshire County Historical Society at Herman Melville's Arrowhead, 2016
Cover etching courtesy of Claire Illouz.