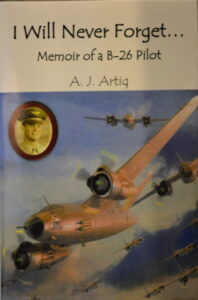 By Arthur "Artie" Artig. The B-26 Marauder was a medium bomber with an attitude. Fast, powerful, and hard to fly, it was one of the tools used to defeat the Nazis. Lt. Artie Artig, born in the Bronx, NY to a Jewish immigrant family, flew the B-26 in combat during World War II and lived to tell the tale. After the war, Artig tried to find work with airlines but was rejected because he was Jewish. His memoirs, originally intended for his sons, help us all understand our history.
I Will Never Forget...Memoir of a B-26 Pilot is available from the shop at Arrowhead, or online here
By Arthur Artig. Edited by J. Peter Bergman, Berkshire County Historical Society at Herman Melville's Arrowhead, 2018.