Exhibits & Community Stories
Each year, the Berkshire Historical Society uses its collections of photographs, manuscripts, and artifacts to tell stories of our past. And we like to mix in a bit of original art!
"Close to the Skin: A Revealing Look at Lingerie"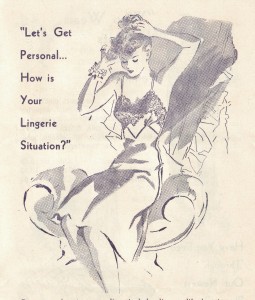 The Berkshire Historical Society includes many items of clothing, including undergarments. This exhibit featured a selection of lingerie, corsets, dressing gowns, and even some men's underwear.  To see the gallery guide, click here.
"Edwin Hale Lincoln: Home City: Photographs of Pittsfield, Massachusetts"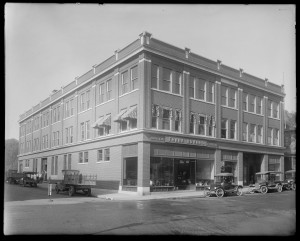 For decades, Pittsfield photographer Edwin Hale Lincoln (1848-1938), with his artist's eye and his technical expertise, documented the places of Berkshire County.  For this 2013 exhibit, volunteer curator Al De Maio selected iconic images of the houses, churches, and streetscapes of Lincoln's home town.  For more information, click here.
  "Made in Berkshire: Papermaking at Eaton, Crane, and Pike"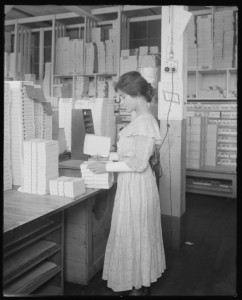 In 1917-1918, several photographers documented all the functions of this large Pittsfield factory.  Men and women make envelopes, sort paper, and pack up shipments to send around the world.  In 2014, curator Al De Maio selected a couple dozen glass plate negatives for scanning and printing.  For more information, click here.
 "The Kimball-Salisbury Women: Chicago to Tor Court, 1890-1930"
In 1908, Chicago residents Evaline and Warren Salisbury built Tor Court, a stunning "summer cottage" above Onota Lake in Pittsfield.  Drawing from the Kimball-Salisbury clothing collection, this exhibit traced three decades of fashion history, from the waning days of high Victorian style, through the Edwardian Era and the roaring 1920s.  For more information, click here.
  "Rally 'round the flag of freedom: Berkshires men of the 54th Massachusetts"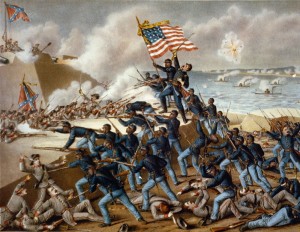 Recruiting for the 54th (colored) regiment goes on briskly in Berkshire. Thirty men have now been accepted, and more await examination of the surgeons. We shall next week print a list of the recruits. The services of Mr. Jackson have thus far been of the utmost value. We fancy that those who have hitherto undervalued the courage of the colored man will by and by consider themselves [mistaken].

Berkshire Courier, Feb. 26, 1863.
For more about the 54th Massachusetts Volunteer Infantry Regiment and the men of the Berkshires who served in the famous African-American regiment during the Civil War, click here and here.
For the past three years, artist Michael Melle created scarecrow art for Arrowhead.   For more information about Michael, go here.